Throughout our service to the community, we've gotten to know some of the hardest-hitting factors affecting individuals in need. Nutritious food, sufficient clothing, and warm shelter are all key to getting people back on their feet. That's why we pour a lot of time and effort into our essential care program.
Soup Kitchens & Food Banks
While food banks provide vital resources to struggling households, soup kitchens give people a sense of hospitality in trying times. Many things can lay a person low, and with added economic uncertainty, sometimes a hot meal can become that much more elusive.
We've always believed soup kitchens give people the chance to forget their worries and nourish their bodies. While low-income households certainly struggle, homelessness means not having the necessary kitchen access to make something simple, hot, and nutritious. Food banks are critical, but soup kitchens are a lifesaver in their own right.
Homelessness & Low Income Households
As recently as 2015, 52% of families in Brampton reported income below the poverty line. With bills piling up, it's easy to see that number rising, especially while the economy recovers from the impacts of COVID and quarantine. From 2015 to 2017, child poverty improved dramatically, but in the Brampton West riding, that decrease was no more than 0.1%.
According to Housing Hub, in the summer of 2019, 32% of homeless people in Peel faced semi permanent homelessness, while 24% went through bouts of homelessness. In these cases, a hot meal at home is not an option.
The Difference a Hot Meal Can Make
In times of personal and international economic uncertainty, keeping as many places open as safely possible will go a long way. But times are uncertain for everyone these days, as social distancing becomes the default for most organizations.
In case you're just getting back on your feet in a place of your own, you might not have what you need in the kitchen to prepare your own meal. For those currently facing life in the street, a hot meal might only come with the help of your community.
Either way, here are your options for getting a hot meal to carry you through to better days.
Regeneration Outreach Community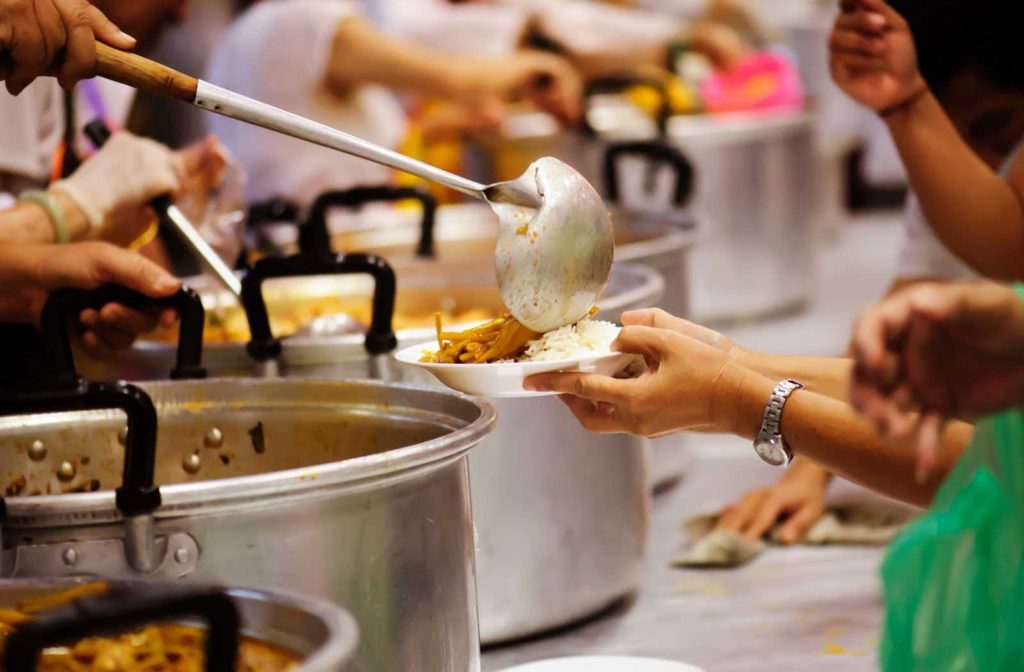 During the COVID-19 crisis, we are committed to serving people up to 4 weekly hot lunches and daily breakfasts before going to work or school. Typically, we have 2 hot lunches per week, but some of the other soup kitchens in Brampton haven't resumed their dine-in schedule yet. We keep the safety of everyone in mind as we serve those in need.
Our community care page keeps the most up-to-date info on meal service, as well as other services available. We provide holistic care for our visitors, ranging from spiritual to physical needs. Contact us at:
905‑796‑5888
156 Main Street, N.
Brampton, ON
L6V 1N9
Knight's Table
Their mission: "to serve and empower vulnerable members of our community by providing food and access to resources in a safe environment through volunteerism and strategic partnerships."
Usually, they have a robust dine-in center serving multiple meals in Brampton each day. For now, they've opted for a takeout-only model, and COVID-19 risks have delayed dine-in events for a later date. Contact them at:
905-454-8725
287 Glidden Road, Unit #4
Brampton ON
L6W 1H9
The Islamic Forum of Canada
The Islamic forum of Canada has public events throughout the county, but their soup kitchen operates out of the center in Brampton. They might not have soup kitchens for summer 2020, as it's not explicitly scheduled on their website, but they have an established reputation as a Brampton soup kitchen. Keep an eye out for the latest details, or contact them for more information.
(905) 790-8859
200 Advance Blvd.
Brampton, Ontario
L6T 4V4 Canada
St. Paul's United Church
St. Paul's soup kitchen is not available during the COVID-19 crisis, judging by their website, but they also have an established reputation as a Brampton soup kitchen. Their food cupboard service might be a place to look for non-perishables. You can always check their website for the latest dine-in schedule.
905-451-1405
St. Paul's United Church
30 Main Street South
Brampton, Ontario
L6W 2C4
St. Anne's Catholic Parish
St. Anne's might not have soup kitchens for the duration of the COVID-19 crisis — but they are an established Brampton soup kitchen. Their website has a schedule for their community events, so keep an eye out for the return of kitchen service!
St. Andrew's Presbyterian Church Brampton
St. Andrew's used to have a dine-in soup kitchen as a part of their acts of service, but for now, only a food bank service is available. For the duration of the COVID-19 crisis, this food bank has been moved to the Regeneration Thrift Store warehouse. For food bank information, contact them at:
905-451-1723
44 Church Street East, Brampton,
Ontario Canada
L6V 1G3
Brampton Meals on Wheels
Meals on Wheels is ready to serve hot, balanced meals to those in need, with certified cooks and a registered dietician on staff. During the COVID-19 crisis, they deliver hot meals as usual, with the drop-off instructions tweaked a little bit to promote physical distancing. They usually reserve their services for:
Individuals who are unable to cook for themselves due to chronic illness
Individuals who are recovering from illness or surgery
Individuals living with a physical or mental disability or undergoing medical treatment
Seniors who don't have the ability to travel to a grocery store to purchase food or have limited cooking skills
Canadian Veterans
Source: http://bramptonmealsonwheels.com/
For information, or to place a food order, call their service line!
1-905-453-4140 ext. 3720
525 Main Street North
Brampton, Ontario
L6X 1N9
Our Thanks
These generous organizations donate their time, resources, and talent to better Canadians striving towards food security. We would like to applaud our fellow soup kitchens for the work they do.
Running a soup kitchen can come with unique challenges, especially while the safety of patrons, volunteers, and staff remains a top priority. If you're in need or you'd like to donate or volunteer, please contact us!