Food banks provide an essential service to our communities. In fact, food bank usage rose 25% across Canada since the beginning of the pandemic, the highest levels we've seen since 2008.
Because of how COVID-19 and other world events have significantly altered our citizens' financial security and well-being, food banks provide the meals people need to feed themselves and their families. But can anyone use a food bank? What can food banks provide? And what options are available for those who need to use food banks regularly?
Regeneration Outreach is committed to feeding and supporting those in need in our community, so we've built this guide to help you learn more about food banks, what they do, how they help, and why they're an essential part of the community.
If you believe you might need a food bank to support yourself and your family, please book an appointment for our Marketplace today. We're always ready to help.
What Is a Food Bank?
If you've never heard of a food bank, you've come to the right place. Food banks are non-profit organizations designed to provide safe, healthy foods for individuals and families who may not be able to afford groceries.
Food banks can be individual programs provided by volunteers, or they can be part of a larger community (like our Marketplace at Regeneration Outreach).
Who Uses Food Banks?
Food banks serve everyone in need of their services. However, some studies have shown trends in those who turn to food banks for help. For example, in Canada:
50.5% of users are on some social assistance plan.
33.3% of users are children.
8.7% are seniors.
1 in 8 users are currently employed.
17.8% of users come from single-parent households.
What Do Food Banks Provide?
Food banks provide a wealth of different food options, but they rely on donations to support their services. As such, food banks like ours keep a strict eye on what foods we offer our community so we can ensure they are safe and healthy to eat.
Some of the most common food items we provide include:
Canned soups, veggies, and fruits
Canned meats and fish
Peanut butter
Jelly
Oatmeal
Hot and cold cereals
Dry noodles
Pasta sauce
Tea
Cooking oil
Juice
Macaroni and cheese
But the items we can provide don't stop there. Please visit our Donate Goods page for more information on what else we may offer or what we will accept if you plan on donating to our community.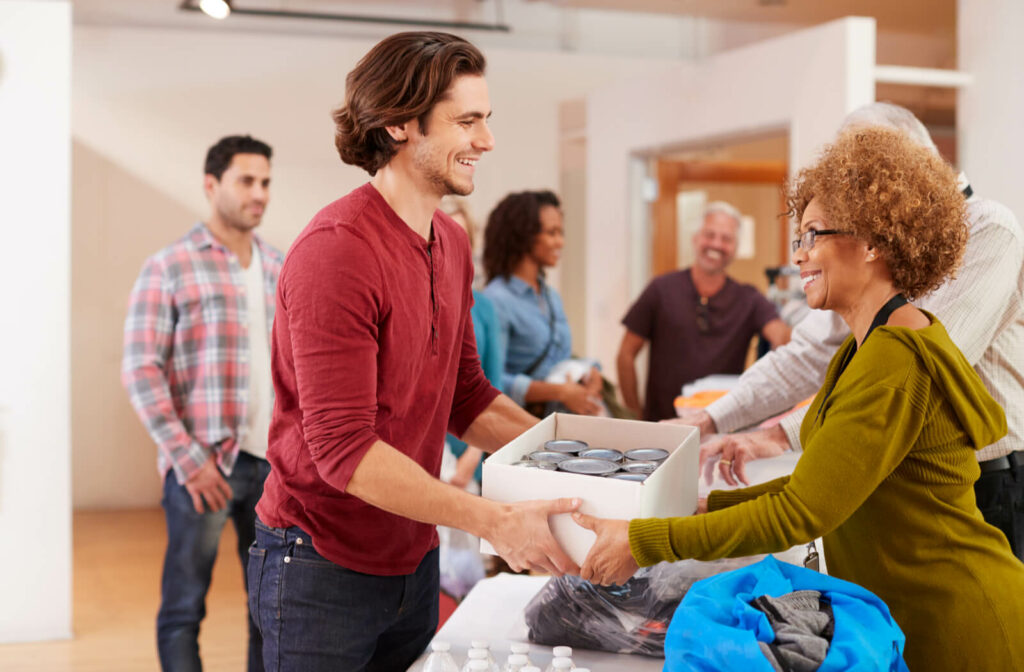 Eligibility for Food Banks
So, who can use food banks?
Everyone! Anybody who needs our food bank services is welcome to them.
Before you visit us, please book an appointment with our Marketplace by visiting our Contact Us page. Once you've booked your appointment, please visit us at the date and time you requested.
Dietary Restrictions
Please let us know if you or your family have specific dietary restrictions. We're happy to help supply foods to address:
Religious requirements.
Dietary concerns like:

Diabetes
Gluten allergies
Lactose intolerance
Peanut allergies

Dietary choices like:

Vegetarianism
Veganism
Keto diets
Low carb diets
While we're happy to accommodate your restrictions and preferences, please understand that we might not be able to meet your requests depending on our stock level of current donations. If you have any concerns, please let us know.
How We Can Help
At Regeneration Outreach, there is more than one way our food banks can help support families and individuals in need.
Depending on your schedule and current need of support, we can offer either our Marketplace service or our delicious meal services during our operating hours!
Our Marketplace
Our Marketplace, located on 253 Queen Street East, is the home of our food bank services. The Marketplace is open Tuesday through Saturday, by appointment only.
We also accept donations at our Marketplace. Please visit our Donate Goods page to learn more about the items we accept.
Meal Services
Regeneration Outreach is proud to also offer meal services for those in need as part of our Essential Care Program.
We serve breakfast every day between 7:30 AM and 9:30 AM, and we serve lunch between 11:30 AM and 12:30 PM Monday through Friday.
Please note that we wrap up our breakfast services at 9:15 on Sundays.
Want to Do More? Volunteer Today!
Communities like ours give hope and strength to those in need every single day.
If you'd like to be part of the difference we're making, please visit our Volunteer With Us page to see how you can contribute. If you're looking for other ways to give, please check out any of the following pages or contact our team today!