A Special Note from Jenna
As someone who has given to the Regeneration Outreach Community — as a volunteer, or through financial support or donation — I want to thank you for the care you have shown to Brampton's vulnerable people. As our CEO Ted Brown takes a well-deserved sabbatical, I am honoured to get the chance to thank all of you personally for the spirit of love and generosity that you share for our community.
The work at Regen everyday extends well beyond the meals, the food distributed, and the showers provided. The impact that your support has had, reaches much deeper than those small comforts, as essential as they are. Each life-affirming conversation that happens in our doors makes a huge difference for people who are often clinging to hope that they can experience love, care, and trust.
As we approach our 23rd anniversary, the impact your support can have is as evident as ever. The past couple of years have been particularly difficult for all of us, but have had an outsized impact on those who seek comfort and support through Regeneration.
As we have been able to return to sit-down service again, we have realized a need for new kitchen equipment to help provide the more than 250 meals that Regeneration provides those in need in Brampton each day. Because of this need, we are asking for your support. Our ability to serve the community is currently limited by a lack of quality kitchen equipment to prepare meals for our guests.

We are looking to purchase new kitchen equipment so that we can increase the number of meals that we serve 365 days a year. Specifically, we are in need of kitchen hardware, aprons, pots and pans, and knives.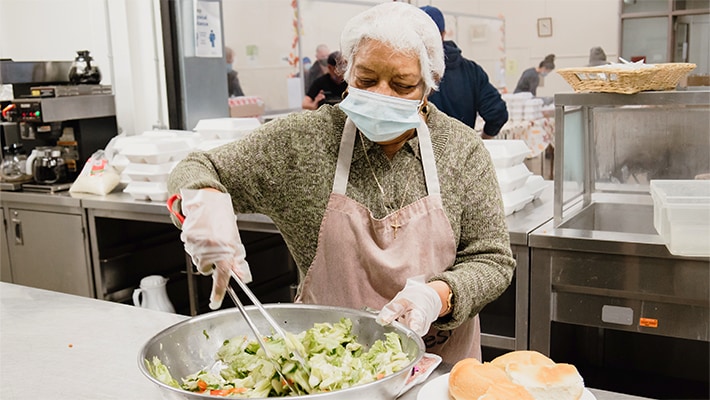 We need the tools to be able to serve our guests with the high standard to which we have always strived. This new equipment will allow us to prepare and serve meals in a timely manner, with significantly less prep time. It will also help us achieve our plan to restart a series of cooking and baking programs, which have been very popular and beneficial to our guests in the past.
I hope that you will consider these needs as we approach the last quarter of 2022. Your generosity will make a tangible difference.
I want to thank you for being a fundamental part of our mission and our passion — and for making this world a kinder and more loving place for those who desperately need it.
Jenna Robson, Director of Operations
Standing in the Middle
This year has been one of drastic change- 2022 has brought with it a new chapter of transition for the COVID-19 pandemic and as much of the world recovers and settles into "a new normal," those who we serve at Regen are disproportionately impacted by rising costs of living. With sky high rental and food prices, changes in social assistance processes, and the end of temporary COVID-19 measures that afforded people accommodation, Regeneration continues to find ways to stand in the middle for people who feel like they are slipping through the cracks.
The Region of Peel has released results from a 2021 Point in Time study that surveyed individuals who were experiencing homelessness, and the numbers speak to a continued need for Regeneration's services. Listed below you can find a few notable statistics from the PIT count, but please scan the QR code if you are interested in learning more about homelessness in the Region of Peel.
45.5% of respondents experienced homelessness when they were 25 or older
33% reported reason of losing their home because they were not able to pay their rent/mortgage
27% reported reason of losing their home was because of relationship dispute
When asked if housing loss was related to COVID-19, 73% of respondents indicated "no", 10% responded "yes" and 2% did not know.
At this time we are seeing record numbers of people seeking assistance at our meal programs, as we saw a 40% increase of people accessing our breakfast and lunch programs from May-July 2022 compared to May-July 2021. We have also seen a 33% increase in trips to the Marketplace during the same time period, as families are seeking additional support for their weekly groceries. The growing need for support for individuals is evidence that this reality for low income individuals and families will continue for the foreseeable future, and Regen will continue to do the difficult, but rewarding work of serving its guests with love and dignity.
This work does not happen without the support of the community, as Regen celebrates its partnerships with over 30 organizations that are also serving people in Brampton, Peel, the GTHA and beyond. Regeneration has procured over 800,000 lbs of donations from our community in 2022, and this food has been distributed to those in need. This is a huge success and something to celebrate, while also recognizing that with the growing food insecurity that faces so many people, our team needs to find new avenues and efficiencies in acquiring and sharing these resources with individuals, families and community partners.
Everyone Counts Peel 2021 Community Report
Ayo's Story
"I am happy to have you guys here! You guys are the only family I have here."
For many people around the world, moving to Canada promises a prosperous and exciting future for them and their families. One of our guests at Regen, who we will call Ayo, moved to Canada from Nigeria with the expectation of bringing his family along with him. Through many challenges, including immigration issues and his own battle with his mental illness, Ayo has come to Regen for support- food, system navigation, but mostly to have a home away from home as he awaits to be reunited with his loved ones.
"I can come to this place and weep because this is the only place I feel loved. I know you all love me!"
Regen's Urgent Needs: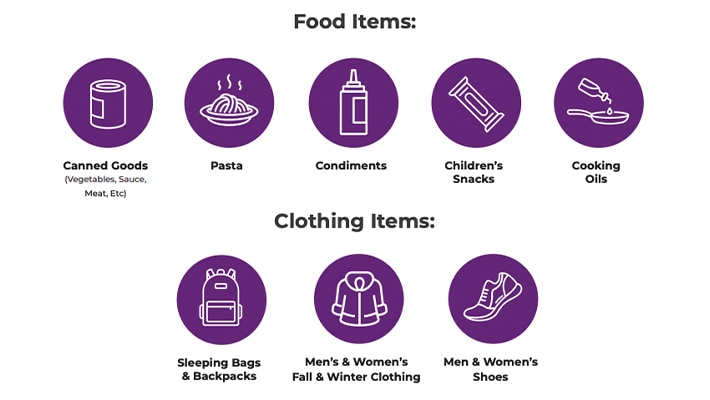 Volunteers: We are in urgent need of volunteers for our Thrift Store and Breakfast program.