Most of us will take any opportunity to expand our closets. Christmas, birthdays, weight loss or gain, changing seasons, or even just a really good sale. But as much as we all appreciate a great new pair of jeans, society is also moving in a distinctly more minimalistic direction.
Books like Marie Kondo's The Life-Changing Magic of Tidying Up and Spark Joy seem to have triggered a home and closet purging movement, leading many to live a less cluttered lifestyle. But what do you do with the items that no longer spark joy in your life?
We recommend donating them to someone who needs it.
Why You Should Donate Your Old Clothes
So why should you donate used clothes rather than just throwing them out? After all, carrying a garbage bag to your black bin is probably easier than making the trip to a donation centre. So why should you bother?
The answer is pretty simple: donating clothes has a real and measurable impact both on Brampton's people and the health of our planet.
Poverty in Brampton
Research shows that Brampton has a poverty problem; particularly for children. The child poverty rate is approximately 17%-24% depending on the riding. While these statistics have dropped over recent years, experts say the decrease has been as little as 0.1%.
Clothing donations do not solve the issue of poverty. However, they can alleviate some of the strain, helping those under the poverty line shift their focus from meeting their most basic daily needs to working towards a longer-term sustainable lifestyle.
Ecological Impact
According to the Recycling Council of Ontario, each of us sends approximately 37 kilograms of textiles to landfills every year. What's worse is that 97% of the clothing we discard can be re-worn or recycled.
Although many of us already compost, avoid plastic bottles, and carpool whenever we can, it seems that we are still overlooking the sheer volume of waste we generate by throwing away clothing.
Donating your clothes can significantly reduce the resources needed to make new clothing and the amount of waste you create.
Where to Donate Clothes in the Brampton Area
Here are just a few examples of places that accept clothing donations in and around Brampton.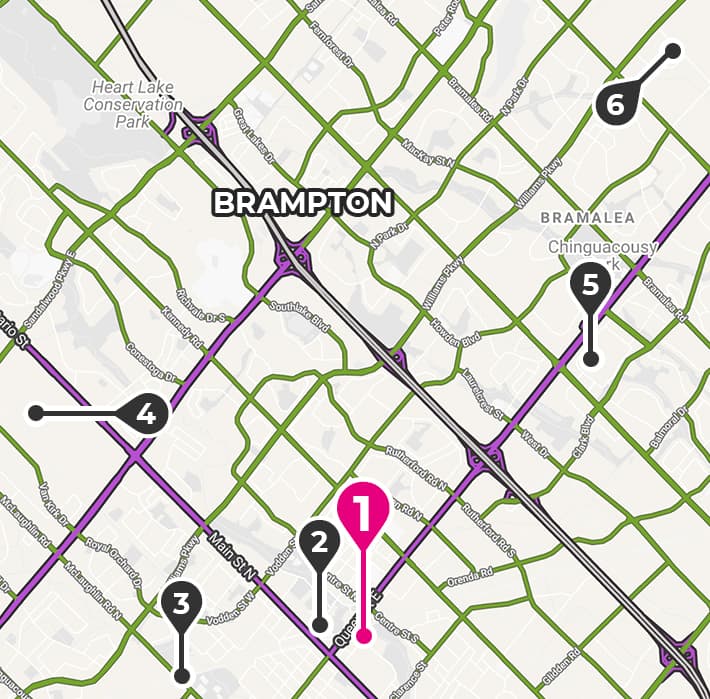 Habitat for Humanity
Habitat for Humanity is best known for building homes and also for their ReStore; a place where people can donate used home goods and finishes such as carpet or countertops. But you may not realize they also accept gently used clothing as well.
Clothes can be donated via the large metal donation bins, which you can find in the ReStore parking lot. These donations are gathered on behalf of a third-party organization. Regardless, Habitat for Humanity states that all money raised from clothing donations will contribute to creating homes for vulnerable people.
Donation bins are located:
4500 Dixie Rd, Mississauga, ON L4W 1V7
25 Brown Street, Milton, ON L9T 7Z8
1800 Appleby Line, Burlington, ON L7L 6A1
Salvation Army
The Salvation Army is a global faith-based organization. With churches, thrift stores, and iconic red kettle stations during the holiday season, most people have at least some familiarity with them.
The Salvation Army Thrift Store accepts donations of clothing and some housewares. Items donated to the thrift store can be purchased for competitive prices. Profit from the thrift store helps fund the Salvation Army's many programs, including camps, shelters, and others.
In addition to selling donated items, the Salvation Army also donates them to individuals and families in need. People who require help are referred to the Salvation Army through social aid organizations and other non-profit organizations.
The Salvation Army lists what kind of donations they do and do not accept here.
You can donate at either of Brampton's Community Recycling Centres:
395 Chrysler Drive, Brampton, ON
420 Railside Drive, Brampton, ON
Kidney Foundation of Canada
The Kidney Foundation of Canada partners with Value Village to raise money in support of kidney disease research, treatments, and programs. When you donate used clothing and small household goods, the Kidney Foundation of Canada sells those donations to Value Village. They will then use the proceeds to make life a little bit better for someone suffering from kidney disease.
The Kidney Foundation of Canada lists what kind of donations they do and do not accept here.
Find the drop-off location closest to you here or request a free pick-up here.
Diabetes Canada
Much like the Kidney Foundation, Diabetes Canada collects clothing donations through metal bins in the community and sells them to their retail partner, Value Village. Diabetes Canada states that 100% of net proceeds from donation sales benefit diabetes research, education, treatments, and programs for Canadians.
Diabetes Canada lists what kind of donations they do and do not accept via the bins here or via pick-up here.
Donations for Diabetes Canada can be made through any of their metal bins, located throughout Brampton. However, they also offer a pickup service.
Find the drop-off location closest to you here or request a free pick-up here.
Encore Thrift Store
Encore Thrift store is a non-denominational organization. It is run by volunteers to provide the community with gently used clothing and household goods for sale. All proceeds from the store support John Knox Christian School in Brampton.
You can donate most clothing and small household items to Encore Thrift store. A full list of accepted donations can be found here.
Donations can be made directly to Encore Thrift Store here: 9446 McLaughlin Rd. N. Unit 2, Brampton, ON L6X 4H9
Elizabeth Fry Society Peel Halton
The Elizabeth Fry Society of Peel Halton is an organization that works with at-risk and vulnerable women and girls. They provide a variety of programs and services, from sheltering survivors of abuse to helping people overcome addiction and reintegrating with society.
The Elizabeth Fry Society can always use resources such as gently used clothing, new toiletries, and some other basics to help women in need.
The Elizabeth Fry Society of Peel Hampton details the items that are currently accepted here.
You can donate at the society's head office: 44 Peel Centre Drive, Suite 200, Brampton ON, L6T 4B5
New Circles
New Circles is an organization designed to help new Canadians meet their basic needs and develop the skills required to settle in and find success here. As part of their services, they operate the GLOW clothing bank. Through the clothing bank, New Circles can provide quality clothing to people of any age, size, or gender with limited income. The service is absolutely free, and simulates a retail experience that preserves everyone's dignity.
GLOW also donates clothing to Mount Sinai Hospital's emergency ward every month, ensuring patients have access to good clothing when they leave.
New Circles details which items they accept here.
You can donate at their office's side door on Hobson Avenue. The office is located at 161 Bartley Dr, North York, ON, M4A 1E6
Mission Thrift Store
Mission Thrift was started in 1988 and now operates over 50 thrift stores across Canada. The Brampton store is run entirely by volunteers, allowing the store to give back as much as possible to the community. Mission Thrift gives back by providing Brampton families with access to affordable clothing and goods, as well as supporting various local charities including Regeneration Outreach Community and My Life Centre.
You can donate most used clothing and household items, including furniture, to Mission Thrift. A full list of accepted items can be found here.
You can contact them for donation pickups or donations can be brought to Mission Thrift Store Brampton at 24 Nelson Street East, Brampton, ON, L6V 1C9.
Regeneration Thrift Store
In addition to all these amazing donation opportunities, we are pleased to say that we can also accept clothing donations at our new thrift store. You can donate gently used clothing, housewares, and even furniture to Regeneration Thrift.
Proceeds from every sale benefit those in need through the work of Regeneration Outreach Community. Your donation empowers us to continue providing physical, emotional, and spiritual support for our participants.
Find out which items we accept here.
You can donate directly to the Regeneration Thrift store: 253 Queen Street East, Brampton, Ontario L6W 2B8
Donating Clothing is a Win-Win
If you are going to purge your closet anyway, it only makes sense to donate your clothing to a worthy cause. It is good for the planet, it is good for those in need, and it is good for you to know that you made a difference.